A church inside the Chiostro
The Chapel, built in the rooms of the ancient reffectory of the monastery, of which the essential structures have been recovered (columns, stone floor, granite portals), has been enriched with artisanal and artistic furnishings of great value, a Mascioni organ and, recently, with a precious "Via Crucis" from the local artist from Cusio Mauro Maulini.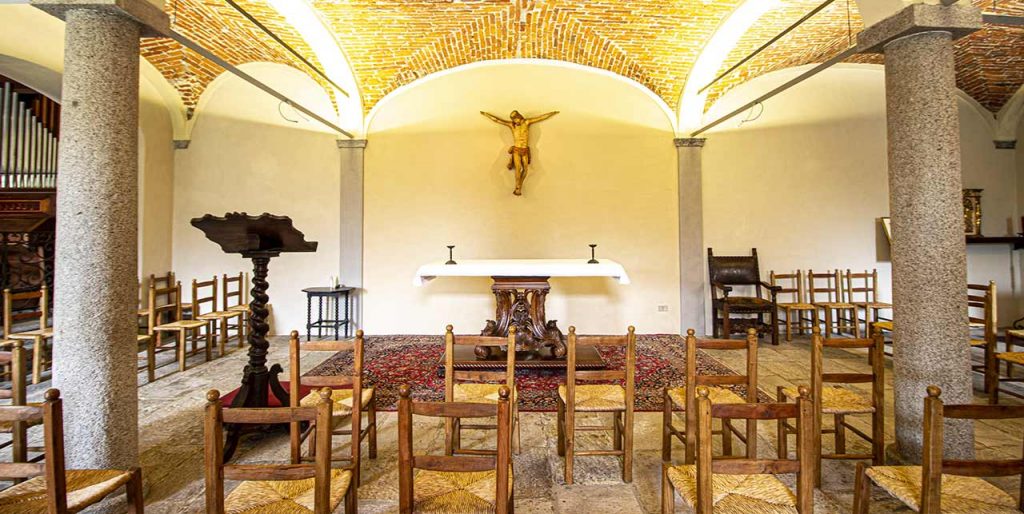 History and arrangement of the Church
At the entrance there is a beautiful S. Agostino from 16th-17th century sculpted in the wood. On the wall behind the altar a cross from the 16th century with an intense expression, coming from the region of Novara. Just after the entrance, on the left side you can find a fresco of Madonna and child coming from the church of Madonna della Neve in Suno, restored and saved from destruction. A stained-glass window from England, given by Carla Sutermeister Contractor descendant from the homonymous family who lived in the Monastery in the 19th century, filters the light from the portico.